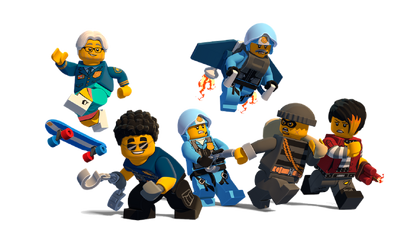 This is an online encyclopedia for LEGO City Adventures that anyone can edit.
page 663 ARTICLES | image 5,571 FILES | edit 16,069 TOTAL EDITS | users 8 ACTIVE USERS
New Episodes

Recent:
Upcoming:

TBA
Browse
[

Source

]
Episodes
Season 1

Cubs and Robbers
Billy the Bug
Sky Police
Father's Day Parade
Race to the Top
Meet Harl Hubbs
Doorman of the City
Fendrich in the Wild
Poppy Starr
The Spooky One
Small Carol
Last Man Floating
Evil Layers
Buster
Shirley Keeper
3, 2, 1
Police Navidad
Paradoors
Slam the Door
JAILBREAK!
Season 2

Buster Moves
To Cop or Not to Cop
Handle with Car
The Silver Blur
Harl Hubbs Day
Ann They're Off
Bob and Clemmons' Excellent Adventure
The Man With No Name With a Name
Daisy and Friends
Backdraft to School
Running Mates
Dirty Duke
For Wheeler
Brickmuda Heptagon
The Quacken
The Treasure of Nosepatch
Midden Fleasure
Tread or Alive
Arrest ye Merry Gentleman
Ride Along Kid
Season 3

Thank Hank
Are The Kids Watching?
Shirley P.I.
Please and Fang You
Class Act
We're #1
Wylde Wex
Business is Booming
Makeover and Over
Lights!, Camera!, Grizzled!
Duke Time
Harpy Stubbs
Quantifying Intrepidness
Green Light
My Cool Aunt Freya
The Cow Jumped Over The Spoon
Stunt City
Of Dads and Dudes
Fool on Fleck
Ramping Up
Give 'Em A Hand
Natural Habitat
Season 4

The Brawl in City Hall
Who is Ludmilla Ersatz ?
Crisis on Moonbase: Momentous!
Wreckless Driving
A House Divided
The Trojan Slooshie
Born to Direct
The Wexler Deflector Conjecture
Billy to the Max
The Good, the Bad … and the Turtles
About LEGO City Adventures
Unlike many LEGO television series and specials that deal in the realms of the fantastic, this series, set in the sprawling and diverse LEGO City metropolis, instead focuses on characters who are much more down-to-earth and whose work helps bring the community to life. Among the ordinary residents thrust into extraordinary adventures are cop Sgt. Duke DeTain, crisis-ready fire Chief Freya McCloud, grumpy street sweeper Shirley Keeper, eager handyman Harl Hubbs, dedicated city Mayor Solomon Fleck, Vice Mayor Carol Yay, rivalry business people R. E. Fendrich and Mary Sinclair, Freya's troublesome nephew Billy McCloud, and skateboarding police Chief Percival "Wheelie" Wheeler.
Notice
If you want to contribute to the LEGO City Adventures Wiki, you must sign in and must 13 years old or older. Click here to sign in and start editing! you are not allowed to make an account due to the Children's Online Privacy Protection Act (COPPA).
---
Discord
Feel free to join our community on Discord.

If you see this, your JavaScript might be disabled or DiscordIntegrator plugin isn't working. If the latter, please contact a wiki administrator.
New Sets
Affiliates
Want to add your site or organisation? feel free to ask our Administrators.